I had a very interesting day today in the British Red Cross office. The day started with a meeting with two members of staff, Emily*, the Youth and Diversity Manager and Stuart*, who is in charge of the Local Life newsletter. They explained to me that due to the major reconstruction that the organisation is undergoing, the member of staff that I was initially supposed to work closely will no longer be overseeing this project. Many staff members are now at risk of reduced hours or even being declared redundant. This means that the atmosphere in the office may be rather sensitive at times. Emily explained to me that I may face challenges whilst gathering stories for the newsletter because of this. Local Life is a newsletter which is meant to showcase the positive news within the organisation, but obviously some people may find it difficult to contribute stories on a positive note if they are at risk of loosing their job. However, I am not one to shy away from a challenge sand see this as a really interesting opportunity to see and understand how a charity organisation functions.
During this meeting we ran over the stories that had been discussed in the previous meeting, a story that caught my attention was the Day in the Life of a Refugee. However, Emily suggested that we do a piece on an asylum seeker instead, or even a comparison piece. I was then asked if I knew the difference between an asylum seeker and a refugee (probably due to my puzzled expression). Emily and Stuart explained to me that an asylum seeker is a person who has fled their home country because their life is in danger. They seek asylum, i.e. safety, in other countries such as the UK. However, the process of seeking asylum can take anything from weeks up to years. The difference between an asylum seeker and a refugee is that refugee's have been granted temporary stay in the country they have travelled to. What interested me the most about this, is the fact that the news media does not distinguish between the two labels. I have learnt from my university studies, that this can lead to a confused understanding of the terms amongst the general public. I offered to cover this piece as I would am very interested in hearing from an actual refugee and asylum seeker about their personal experiences of those labels.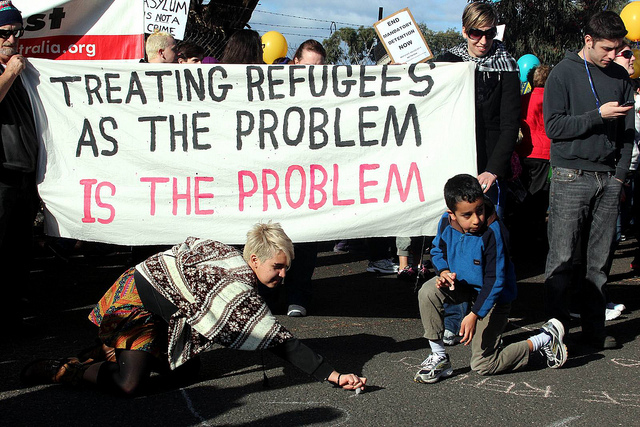 The rest of the day was spent going over some final paperwork about my time with the Red Cross and what is expected of me and what I aim to achieve during my work placement. Thereafter, once my fellow CLAS work placement partner (Fran) arrived, we began to go over the articles that we need to begin working on and divided them between us. Unfortunately, Fran had to leave early, so after she left I created a spreadsheet with all the features that we had just discussed with space for notes on each piece as well as action points. I was able to save this on the shared hard drive so that we can both access the document any time we are in the office. From my editorial experience, I have learnt that spreadsheets like this are not only helpful, they are crucial in order for everyone to be able to work efficiently without confusion due to the lack of communication.
I'll return to the office next Friday for a meeting with the Fundraising manager, who is also helping with the creation of Local Life. Im sure it will be a very busy day!
*Names have been changed for privacy reasons