As mentioned in previous posts, my current task for my BRC work placement is to design the next issue of the Local Life newsletter. My supervisors suggested that I complete this task from home as I am able to log in to the system from anywhere as long as I have my log-in details with me. Therefore, after a few technical difficulties I managed to log in to the system and begin working on the design. Over the past week, this has been my main focus as I wish to create a final product that is both true to the BRC's brand image but also colourful and engaging for their readers. Therefore, my greatest task with the design is to stick to the branding brief whilst attempting to create something slightly more colourful and visually aesthetic than their previous products I have seen.
Design is a skill that I have previously tried my hand at during my role with Impact magazine as I have had to create posters and images for social media. However, I have never taken on a project as large-scale as this newsletter and with such specific requirements regarding the colours, font, image sizing etc. It is safe to say that I had underestimated the time-scale it would take to undergo a project that may seem small (12 page newsletter) but is in fact a much larger project than I had anticipated. A design meeting has been set for Wednesday 18th May, which is the deadline I am working towards. In that meeting I will be able to show my supervisors what I have completed and will hopefully receive constructive criticism on what needs to be altered. In order to meet this deadline, I have set aside a certain amount of hours over the next couple of days so that I can present a finalised product on Wednesday.
Another tactic I have found helpful whilst working on the design, is researching other design projects online. Pinterest.com has become my new best friend. On this website I have searched for alternative design projects in order to find inspiration for my own design. This has been truly helpful although I must be careful not to copy the designs I find completely.
A reflection on my time at BRC
I have learnt a great deal during my time at the BRC. One of the main aspects of knowledge I wished to gain during my work placement was an understanding of the management of a charity. As a worldwide organisation, their must be a well established management team in order to ensure that the organisation is successful in achieving it's goals. This is an area of knowledge I have most definitely built on during my time at the BRC.
It is safe to say that my work placement took place during an unstable and slightly uncomfortable stage at the BRC. Due to structural changes within the organisation, a great deal of staff remained uncertain of whether they would be able to keep their jobs as many others had been made redundant. This became noticeable to me as I saw a change in environment from when I first entered the office in January to my latter visits in March, April and May.
In addition to this, these structural changes evidently affected my work placement as my initial supervisor was no longer in charge of our project after the first two weeks of our placement. Thereafter, Fran and I were supervised by Emily*, a truly pro-active, hard-working and kind woman who I would love to work with in the future. It has been a pleasure working with her as she made me feel very much at home in the office and encouraged me take the initiative during my placement. However, due to the change in supervisor, I did feel a greater amount of pressure in regards to the completion of the newsletter. Fran and I had gone from helping out with a few articles to being in charge of completing the majority of articles as well as the design. It is safe to say this was an unexpected adjustment as we had been given much more responsibility than had initially been planned. The increased amount of work necessary to complete a final project meant that Fran and I had to tactically arrange who would take on what parts of the newsletter. Due to my editorial experience, I had a good understanding of this process and we came to the conclusion that Fran would focus on creating the content for the newsletter whilst I would oversee the design process. This worked out very well due to our alternative university schedules which we were able to work around.
Another factor I have picked up on during my time at BRC is the importance of branding for their organisation. As a Media and Communications student, I have learnt about the semiotic nature of branding and how it can affect the public's understanding of a brand. However, I found it truly interesting to see the aspects of branding in action. The initial values and intentions of the Red Cross are evident in all aspects of their work as they attempt to remain impartial, reliant and international. Therefore, the organisation is very careful of the products it produces as they must reflect the same principles worldwide. In addition to this, the Red Cross foundation is very protective of it's emblem. This is due to the organisation's work in high-risk war zones, where their emblem serves as a protective sign so their members are able to help those in need in high-risk areas without being harmed. I found this truly inspiring - the fact a sign as simple as a red cross can serve as the determining factor between life and death for a human being.
In my following project I will examine the relationship between the BRC and the refugee crisis as this is an area I am truly interested in, however I have not managed to explore it during my work placement. I have spoken to my supervisors regarding this project and they explained they would be willing to provide me with certain contacts in order to conduct an interview with a refugee. Also, they mentioned it would be possible for me to sit in on a Refugee Support evening in order to see exactly what the organisation does to help local refugees. I am looking forward to begin working on this project. However, for now I am focusing on the newsletter design.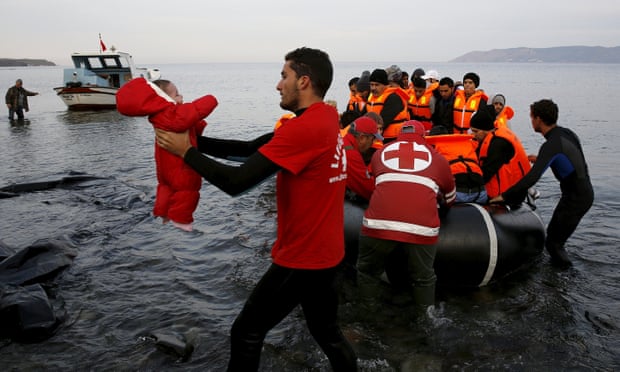 Chanel